Enhanced Access Unit Portable Toilet
Wheelchair accessible portable toilet
The Enhanced Access Unit (EAU) provides convenient access for persons who prefer a larger portable restroom. Patrons in wheelchairs have successfully used it, though it is not ADA-approved. Thousands are in service, both in the United States and around the world.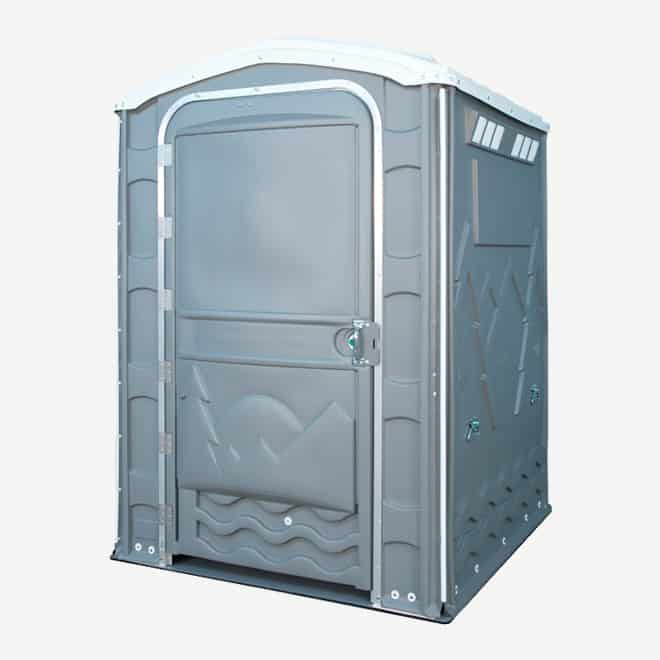 What's Included
½" thick polyethylene extrusion floor provides maximum rigidity and near ground-level access
40-gallon waste tank
Bowl with toilet seat and cover
Dual roll toilet paper holder with rod and padlock
Heavy-duty aluminum handrails / grab bar, like those found in many plumbed restrooms
Pneumatic door closer, which is balanced by a heavy-duty cable spring for comfortable, consistent, and predictable access
High molecular-weight material with extra UV protection ensures that your units will continue to look new through years of work
---
Colors Available
Choose any of these 17 colors that you like or fits your corporate identity!
Specification
| Enhanced Access Unit | Metric | Imperial |
| --- | --- | --- |
| Length | 1.55 m | 61" |
| Width | 1.55 m | 61" |
| Height | 2.20 m | 86.5" |
| Weight | 127.01 kg | 280 lbs |
---